Get more social with Joomla Social Plugin for articles!
So you have great content! Why don't you let people share it on their  Twitter and Facebook account? Now it is easy with ByJoomla Venus templates (Including Venus and Venus 2.)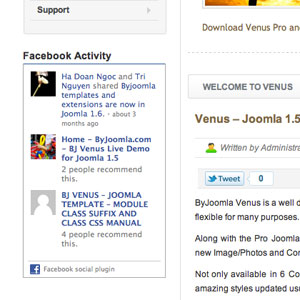 Since Facebook has become one of the most profitable, valuable marketing and PR channel, many of ByJoomla's clients wondering how they can have Facebook campaigns run with their Joomla websites or is there any Joomla extensions for Facebook. That is why we integrated two Facebook plugins into our Joomla template – Venus 2. The plugins are:
After releasing Venus 1, we receive many positive feedback and comment from clients. That is why we decided to take Venus – Joomla template to a new level. Today, we are pleased to introduce the major upgrade of Venus template.
What will you receive in Venus 2:
Social network plug-in. Nowadays, Twitter and Facebook and other social networks are parts of internet life. So we added full social network options to Venus 2 for your social network marketing strategies.
More position and module styles added for alternative content presentations.
Venus 2 can be updated free for all client of Venus 1.