The newly FREE B Mercury Joomla template, which is specially designed for business purpose, has been release now on ByJoomla website.
B Mercury now provides more development power while making the more user-friendly experience. Not only visitors, or newbie administrators but also professional designers/ web developers feel comfortable and easy to use this simple and clear template.
Professional B Mercury is available in 6 colors variable and huge typography library. This Joomla! template also becomes more flexible with adjustable content presentation, which are best-match for any business's online distribution.
Experience B Mercury right now and make your business become success.
(Please note that B. Mercury FREE come with BJ Image Slider FREE version only)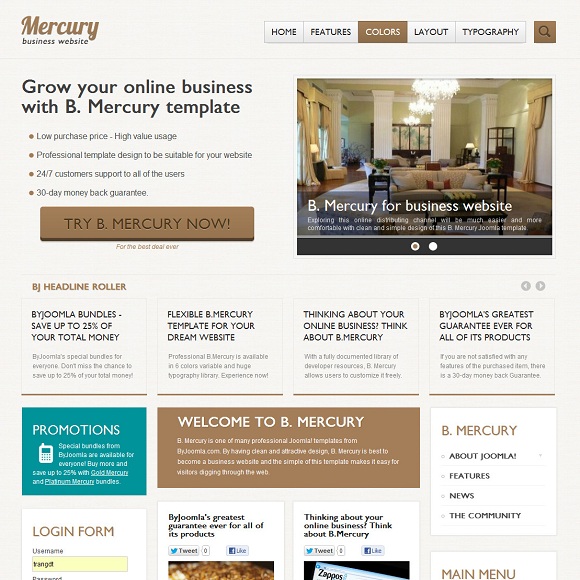 Many professional features are included in B Mercury
We included in Mercury the cool features to your site user friendly make your customers conveniently browsing the web.
Table-less & CSS-based
Adjustable layout
xHTML & CSS validation
Cross browser compatible - Support Chrome, IE7+, Firefox 2+, Safari, Opera
SEO friendly with SEO parameters
Flash-Free (easily browsered on mobile devices)
Compatible with Joomla 1.5, 1.6, 1.7 and 2.5
Fast Directly Technical Support(available for PRO and DEV customers).
Many build-in Modules for smarter and more effective content presenting:
BJ Image Slider II (Free version)

Java Script Image slide show with beautiful effects. (Free version)

BJ Headline Roller

Display hot/new article titles in outstanding place for more viewer impression.

BJ Dropdown Menu

Display multi-level menu items in a dropdown style.

BJ Social Plugin

Integrates with social networking sites (Facebook & Twitter) in articles.

BJ Facebook Extension

Include Facebook activities feeds & Facebook recommendations.

 
Mercury is a professional Joomla template which is specially designed for business purpose
Simple CSS-based customization
Large Typography Gallery (bullet list, dialog, icons, buttons, modules…).
6 colors
Professional design with 6 colors (for FREE version)
Whether you are building a website for your company, non-profit organization, clubs, games ... we have variable styles for your needs.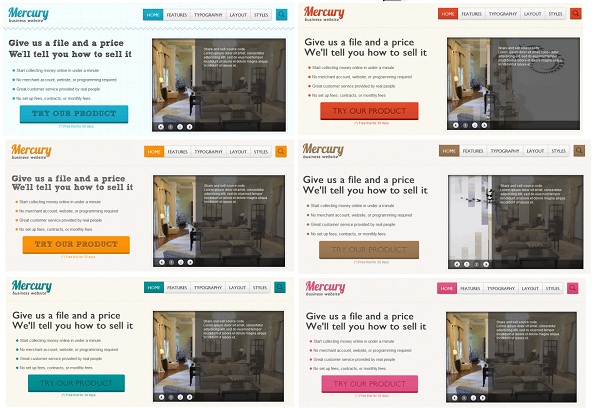 With up to 15 positions: Enough positions for all your needs
Documentations of Mercury include
Getting started document - Which guides you from download and install Mercury template to configure Mercury template