The V3 of B Responsive Image Slider is a perfect combination of image slider and content slider. Beside great multi-transition and animation effects for images you can also customize transition effect for content shown in the Joomla content slider. We call it – a smarter way for message conveyance. B Image Slider V3 is another Joomla extension from ByJoomla, which has free option to download. It's also intergrated with BJ preminum themes to bring more conveniences and values to the package, which rates from only $4.9.
Along with the advent of templates for Joomla 3.3 and in order to provide the most perfect user experience, ByJoomla team would like to introduce the version 3 of B Image Slider – the most successful extension of our BJ team. The version 3 of B Image Slider is one of the leading extensions being responsive with Joomla 3.2 and Joomla 3.3, which support users to see full images in any portable devices. Besides, B Image Slider 3 is the good choice thanks to its great customization ability, supported by CSS3 and HTML 5. Along with two features above, B Image Slider 3 has more interesting effects, bringing your website uniqueness and smoothness.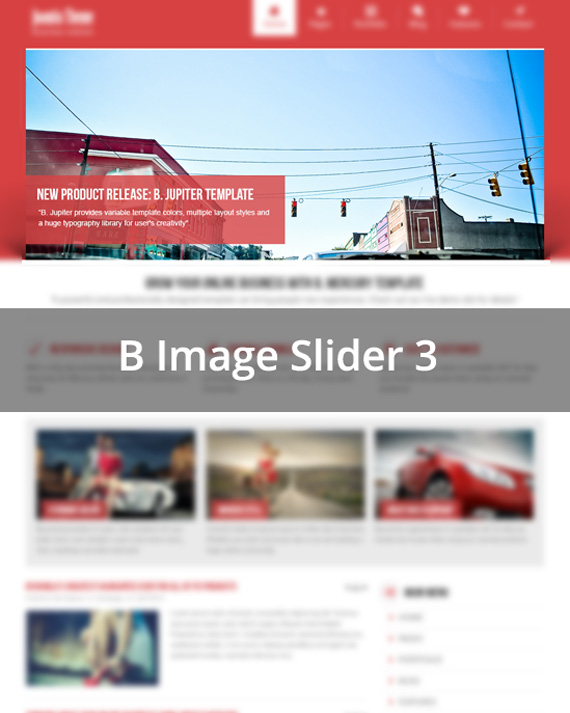 So what makes B Responsive Image Slider V3 your best Joomla image/content slider?
Joomla 2.5 and Joomla 3 fully support
Flexible layout using parameters
So you get to customize the slider to fit your whichever Joomla template for whatever purposes
Multi-transaction and animation effects
Add more animation effect to the slider to make an interesting website browsing experience.
Eye-catching design with more design coming in the ByJoomla library
For PRO and DEV, design will be updated for you to select the most suitable one.
Unlimited images present based on Ajax technique
No worry about how many images or photos you have. We got it covered.
More style updated regularly
Styles for effect and design of this Joomla content slider are updated in our library.
Content presentation customized in styles that you want


With the integrated content slider, you will never find it hard to get your message present in the photos / images. The content transition effect is customizable too.

Flash-free that make it compatible cross devices (like iPad, iPhone)


No worry about your website is viewing on multiple devices, they all come compatible responsive with the ByJoomla Image Slider.

Super economical with Free Image Slider version
See our live demo with:
"Blur" effect
"Push" effect
"Blur + push" combination
We are committed to providing you the best possible support for all our products.
12-month-from-purchase technical support is available for customer purchased PRO and/or DEV versions of our Joomla templates / Joomla extensions.
Technical support includes:
1. Issues from configuring Joomla templates and extensions from ByJoomla
2. Issues / bugs of Joomla templates/extensions not compatible with Browsers
3. Templates/extensions and customer's server conflict
4. Templates/extensions conflict with third-parties' products
5. Templates must be at the initial conditions (delivery conditions) with no significant customization

Customer can choose between 3 support channels: Byjoomla Ticket Support, Forum Support and Direct Mail Support
All support request will be replied within 24 hours.
Please be noted that technical support does not include customization / modification of templates.
 
 
 

Totally FREE

Joomla 2.5, Joomla 3.x
Bug-fix support

Only $4.9
for

a single domain support
Joomla 2.5, Joomla 3.x

Suitable for website owner/administrator

Only $9.9
for

Unlimited domain support
Joomla 2.5, Joomla 3.x

Suitable for Web development agencies

Basic parameters

Advance parameters
More control, more effects

Advance parameters
More control, more effects

5 Images limited

Unlimited images

Unlimited images

Bug-fix support on Forum

Dedicated
technical support (12 months)
Email and Helpdesk
(within 24 hrs)
Forum support

Dedicated
technical support (12 months)
Email and Helpdesk
(within 24 hrs)
Forum support

Totally Free

Only $4.9

As low as $9.9