B Metis and Joomla B Extensions have been upgraded to Joomla 3.x in this June 2014. Remember to subscribe to our blog or our social account to check the
change log, releases and promotions
!
With the release of Venus (– a professional template for both Joomla 1.5, 1.6, 1.7 and Joomla 2.5) we would like to present a more customizable template that comes with many cool features.
Venus focused on professional design. 6 Colors styles are available, and even more are coming (which are Free for Pro and Dev members). Venus is a Joomla template that fit every purpose from business to personal blog…
There are huge typography library and functional modules so your content is effectively presented.
See more of great Joomla template – Venus bellow:
(Please be noted that Venus PRO and DEV license come with BJ Image Slider FREE version only) - But don't worry, you can save more with our bundle purchase!

Save 25% with ByJoomla Venus Bundle
- Venus Gold Bundle includes: PRO Venus 1&2 Template (original price: $4.9) - PRO Image Slider 2 (original price: $4.9) - Total original price: $9.8. You only pay $5.99. Click to view
Venus Gold Bundle
.
- Venus Platinum Bundle includes: DEV Venus 1&2 Template (original price: $14.9) - DEV Image Slider 2 (original price: $9.9) - Total original price: $24.8. You only pay $15.99. Click to view
Venus Platinum Bundle
.
Many professional features are included in Venus
We included in Venus the cool features to your site user friendly make your customers conveniently browsing the web.
Table-less & CSS-based
Adjustable layout
xHTML & CSS validation
Support Chrome, IE7+, Firefox 2+, Safari, Opera
SEO friendly with SEO parameters
No flash so let just say your site would be viewable on the iPad, and SEO friendly
Right to Left - RTL languages supported

Fast Directly Technical Support

(available for PRO and DEV customers)
Joomla modules ready:
BJ Image Slider II (Free version)

Java Script Image slide show with beautiful effects. (Free version)

read more

BJ Headline Roller

Display hot/new article titles in outstanding place for more viewer impression.

Live demo

BJ News Tab

Shows summaries/parts of articles in a tab-style layout.

read more

BJ Content Slider

Slide show for article content. Presents article content in variable positions.

read more

BJ Photo Gallery

Displays images in a grid-style layout. Zoomed in popup when clicked.

read more

BJ Drop down Menu

Display multi-level menu items in amazing dropdown style.

read more
Venus is a flexible Joomla template and easily customizable
Simple CSS-based customization
Large Typography Gallery (bullet list, dialog, icons, buttons, modules…) and more typo updated usually.
4 module styles x 6 color ++ (Professional get new styles usually)
Professional design with 6 colors +

6 Colors of Venus 2

included in the pack (PRO and DEV verson only)
Pay just once and you get 6 basic colors + Venus 2 Joomla template. Styles are variable to fit your every purposes.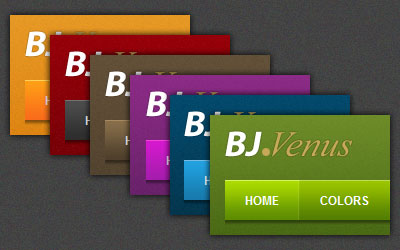 Documentations or Venus 2 includes
Getting started document - Which guides you from download to install Venus template.
Venus configuration guide - Which guides you on how to configure Venus template.

All these documents can be download at VENUS TEMPLATE USER GUIDE
Compare packages
 
 
 

Totally FREE
Bug-fix support

Only $4.9
for,
a single domain license
Suitable for website owner/administrator

Only $14.9
for
Unlimited domain license
Suitable for Web development agencies

Blue Color

6 Colors

6 Colors

Dropdown Menu
Content Slider
Image Slider 2 (ver. Free)

Dropdown Menu
Content Slider
Content Tab
Headline Roller
Photo Gallery
Image Slider 2 (ver. Free)

Dropdown Menu
Content Slider
Content Tab
Headline Roller
Photo Gallery
Image Slider 2 (ver. Free)

Basic typography

Advance typography

Advance typography

No PSD source file

PSD source file available

PSD source file available

Bug-fix support on Forum

Dedicated
technical support (12 months)
Email and Helpdesk
(within 24 hrs)
Forum support

Dedicated
technical support (12 months)
Email and Helpdesk
(within 24 hrs)
Forum support

Manual update

12-month
upgrade

Lifetime upgrade

Totally Free

Only $4.9

(Include BJ Venus 2)


As low as $14.9

(Include BJ Venus 2)