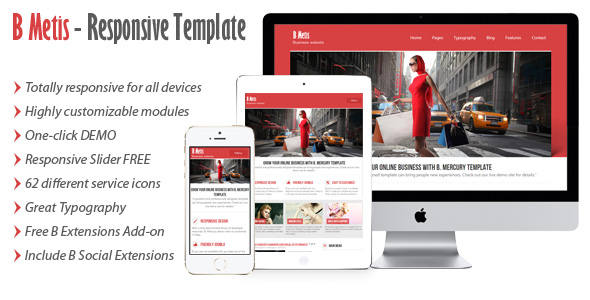 What is the difference?
B Metis template is used to known as an appealing flat template for Joomla users who wish to create a flexible, ultra-modern and tidy website, especially lifestyle magazine owners. However, the customization ability of B Metis also enabled its users to create websites for multi-purposes.
Thanks to the upgrade to Joomla 3.3, B Metis now becomes even more powerful because it is responsive with all device screens.
Why is the release valuable?
The release is designed for users who call for referring to full width pages in any portable devices without scrolling or zooming. The template package includes totally responsive elements such as slider, text, extensions, and images that is helpful for all users
The unchanged pricing policy of ByJoomla brings the most beneficial deal of Joomla 3.x templates in the market for users. Only $4.9 for our PRO template and support.
Notes: Be aware that the technical requirements for running Joomla 3.3 are different. See the FAQs to get more detailed information.
Main Features

Totally responsive on both front-end and back-end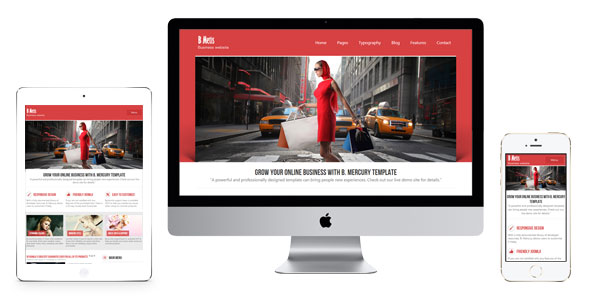 Outstanding B Image Slider 3 (Responsive upgrade - More about Slider)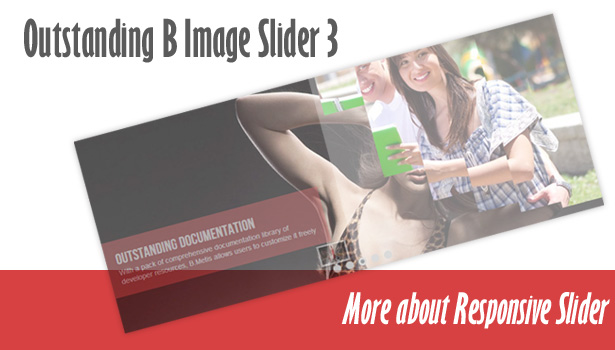 Flexible layout using parameters So you get to customize the slider by changingheight, length, number and caption of slides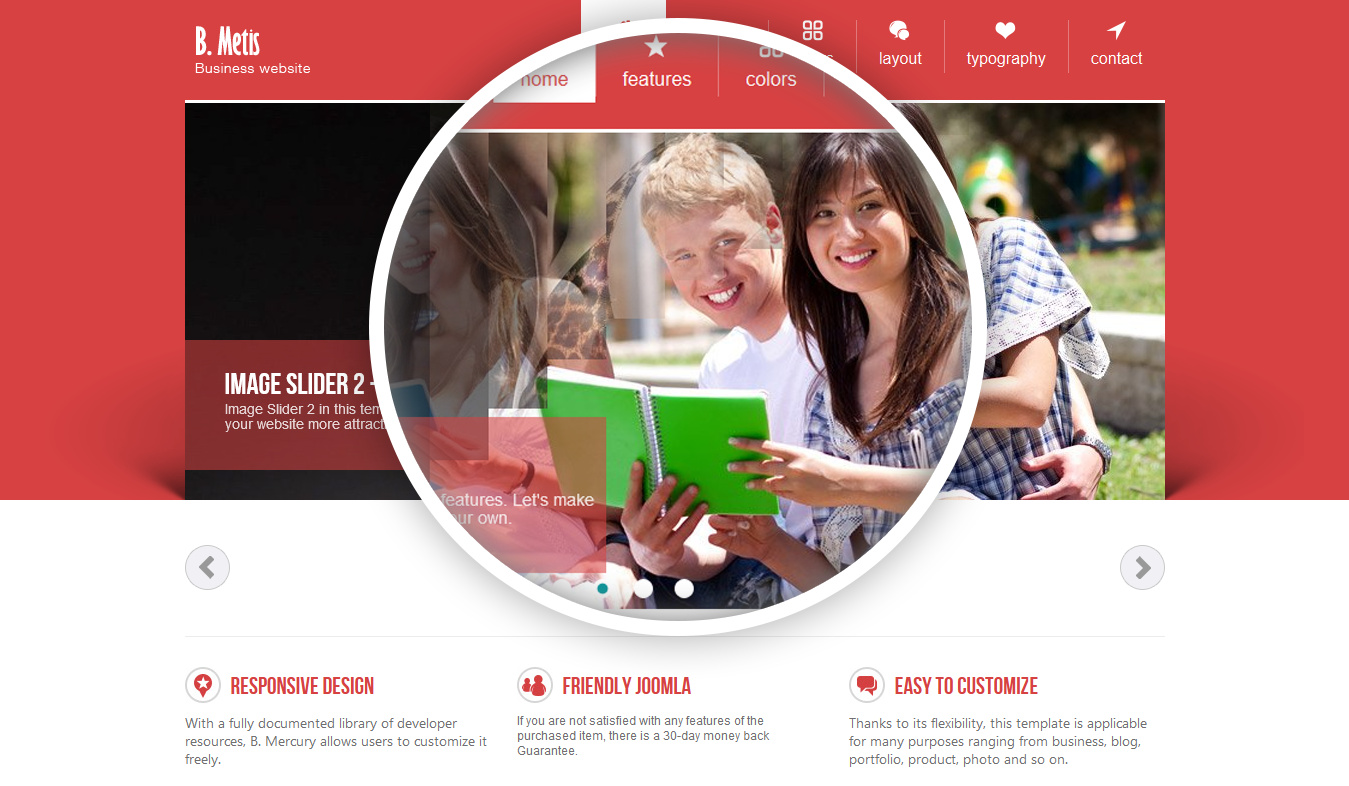 A smart light box showing content of slide makes users know what content of the next slide is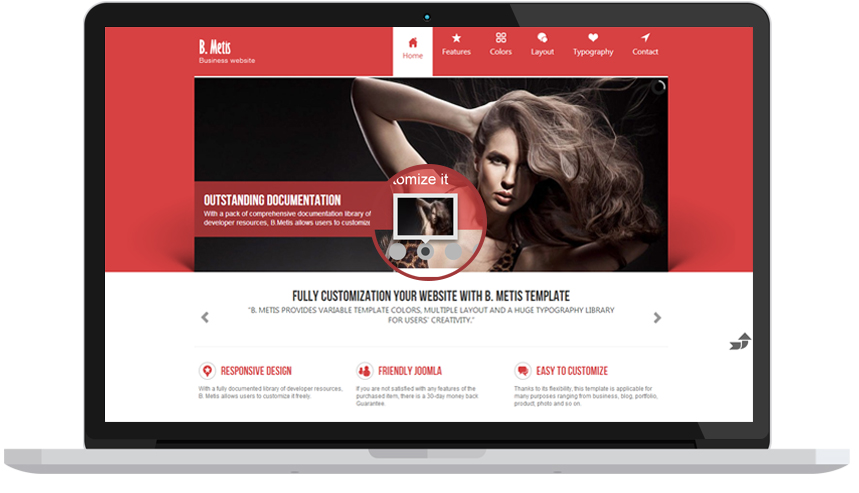 Eight stunning colors variation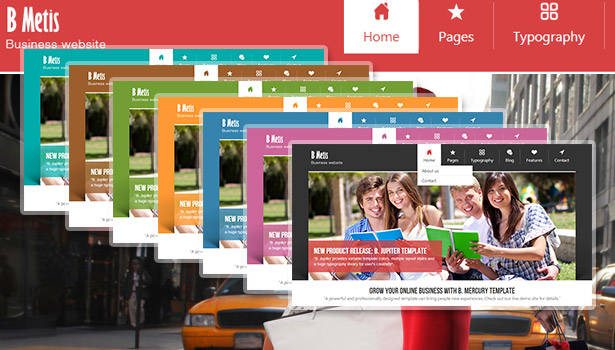 Colorize for your styles - Match your website purpose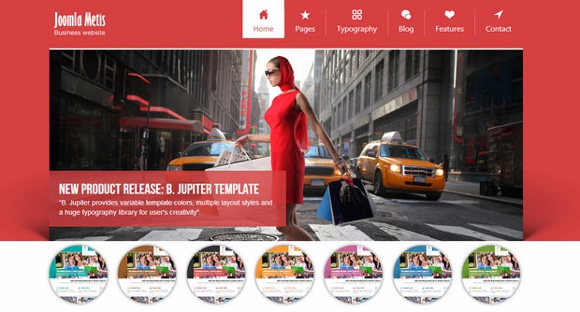 Highly customizable modules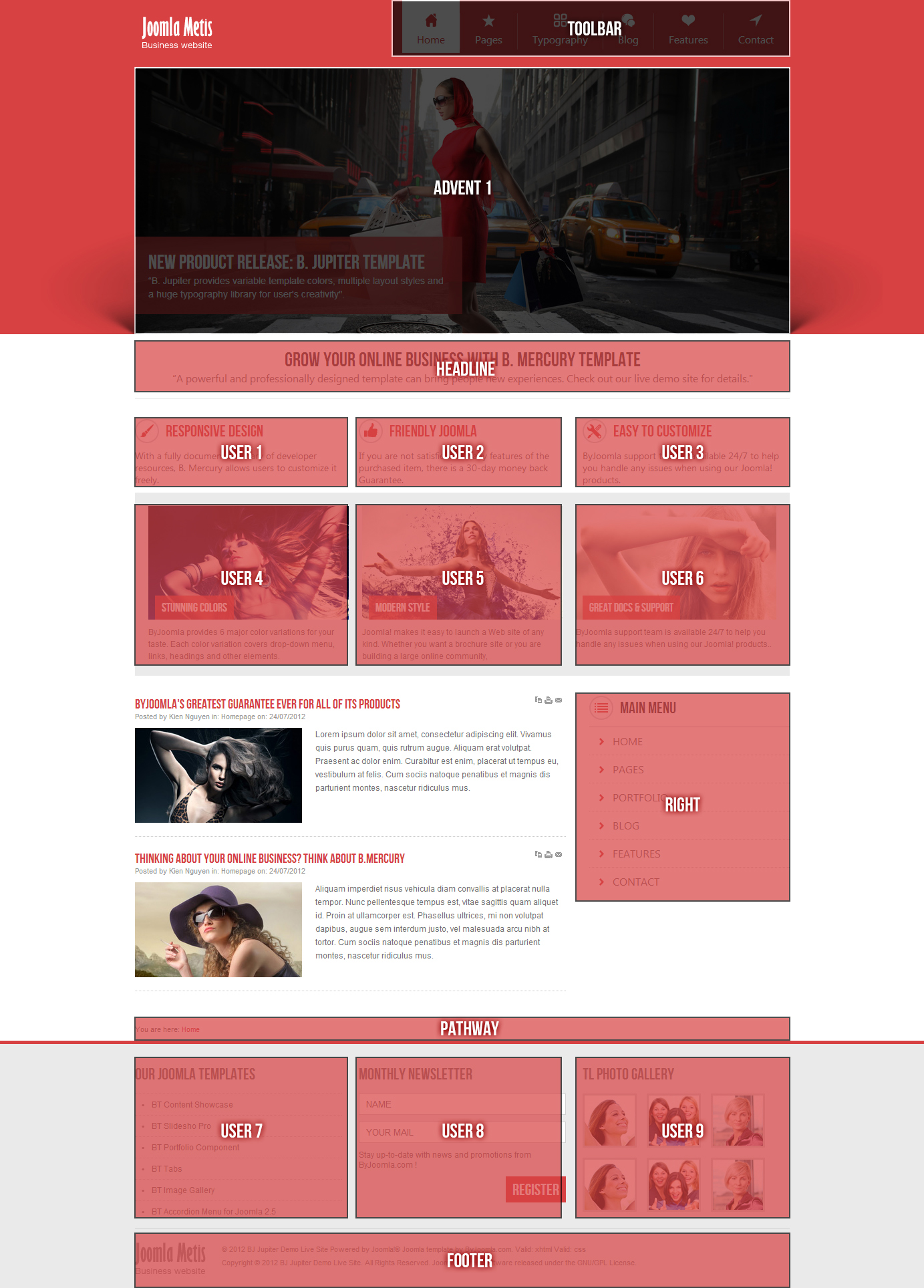 62 different service icons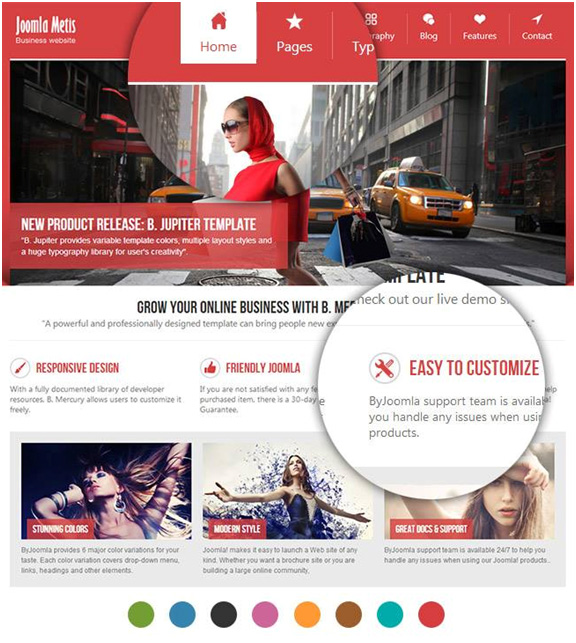 One-click demo imported with Joomla 3.x extensions included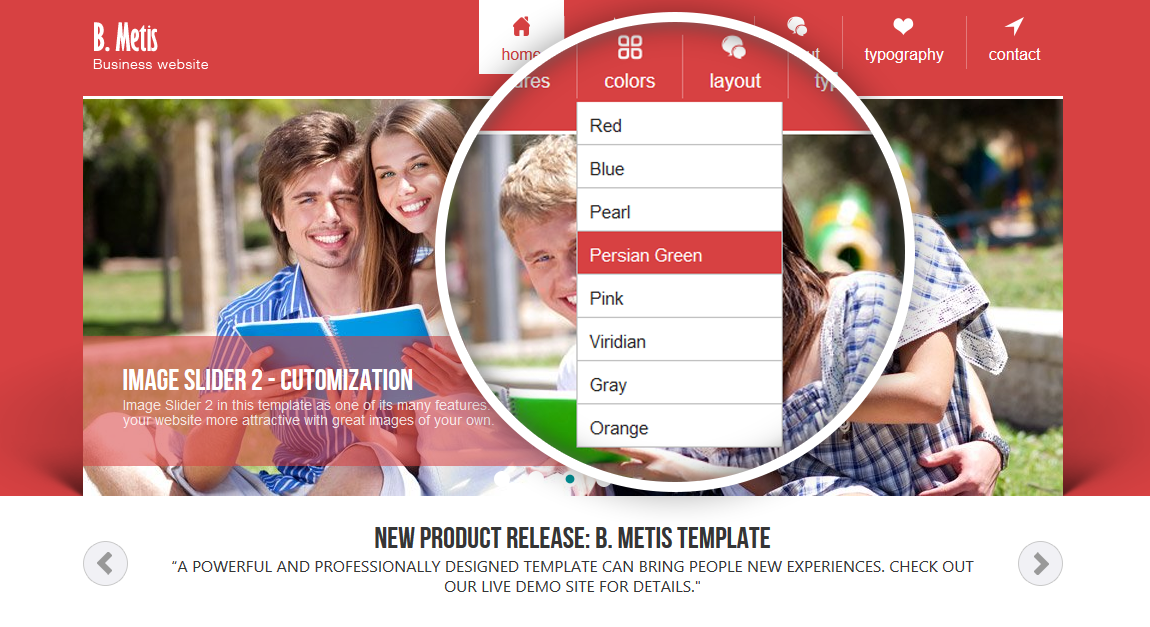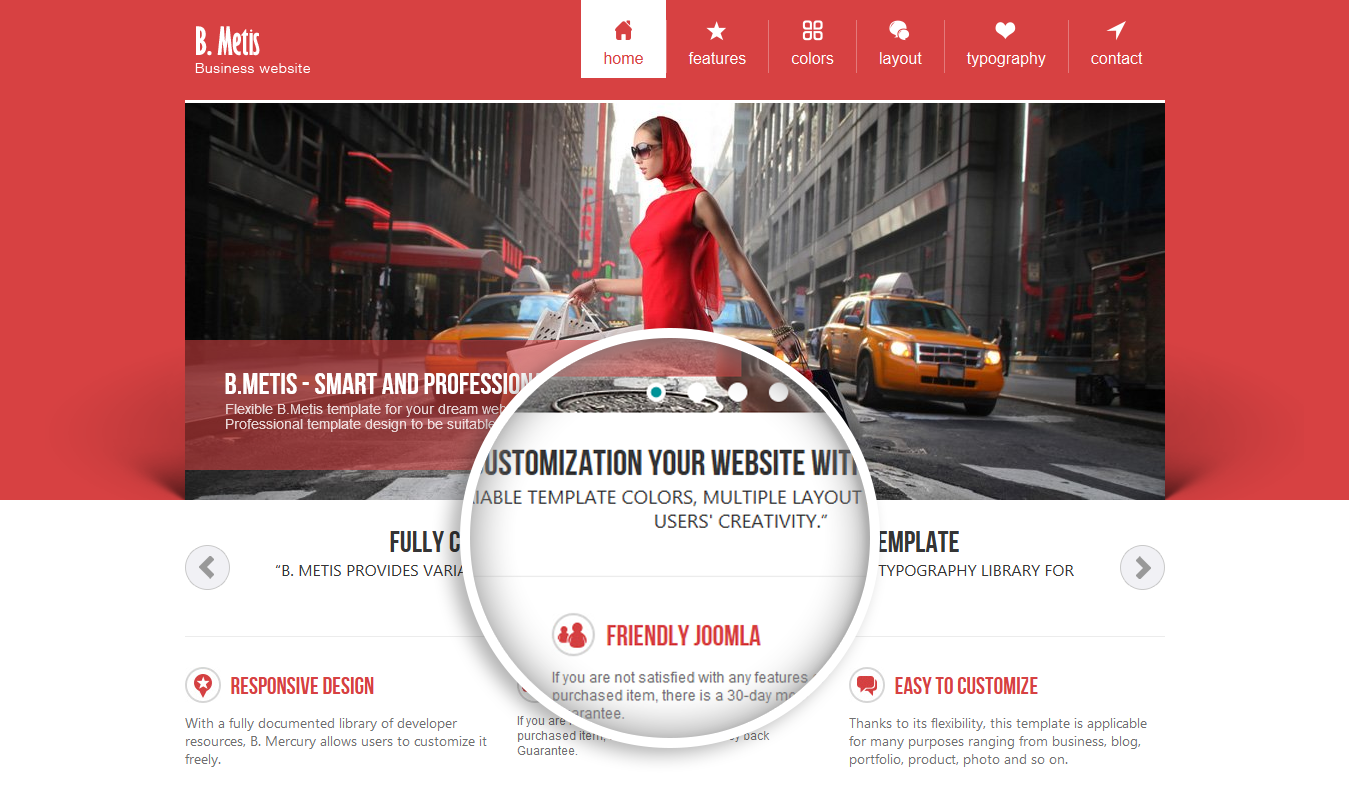 B Social Extensions (Including B Facebook Recommendation module, B Facebook Activities Feeds module, B Social Plugin)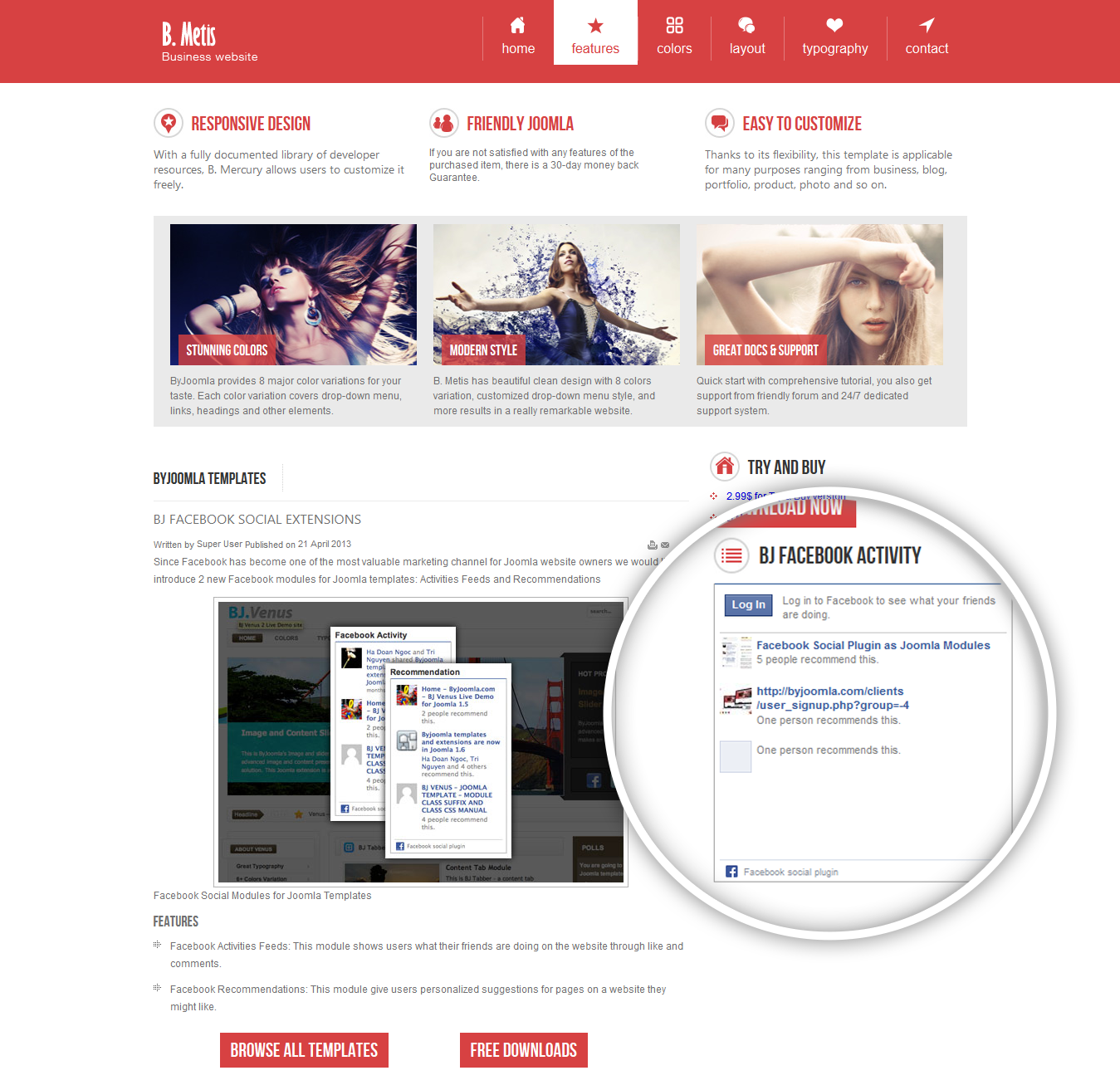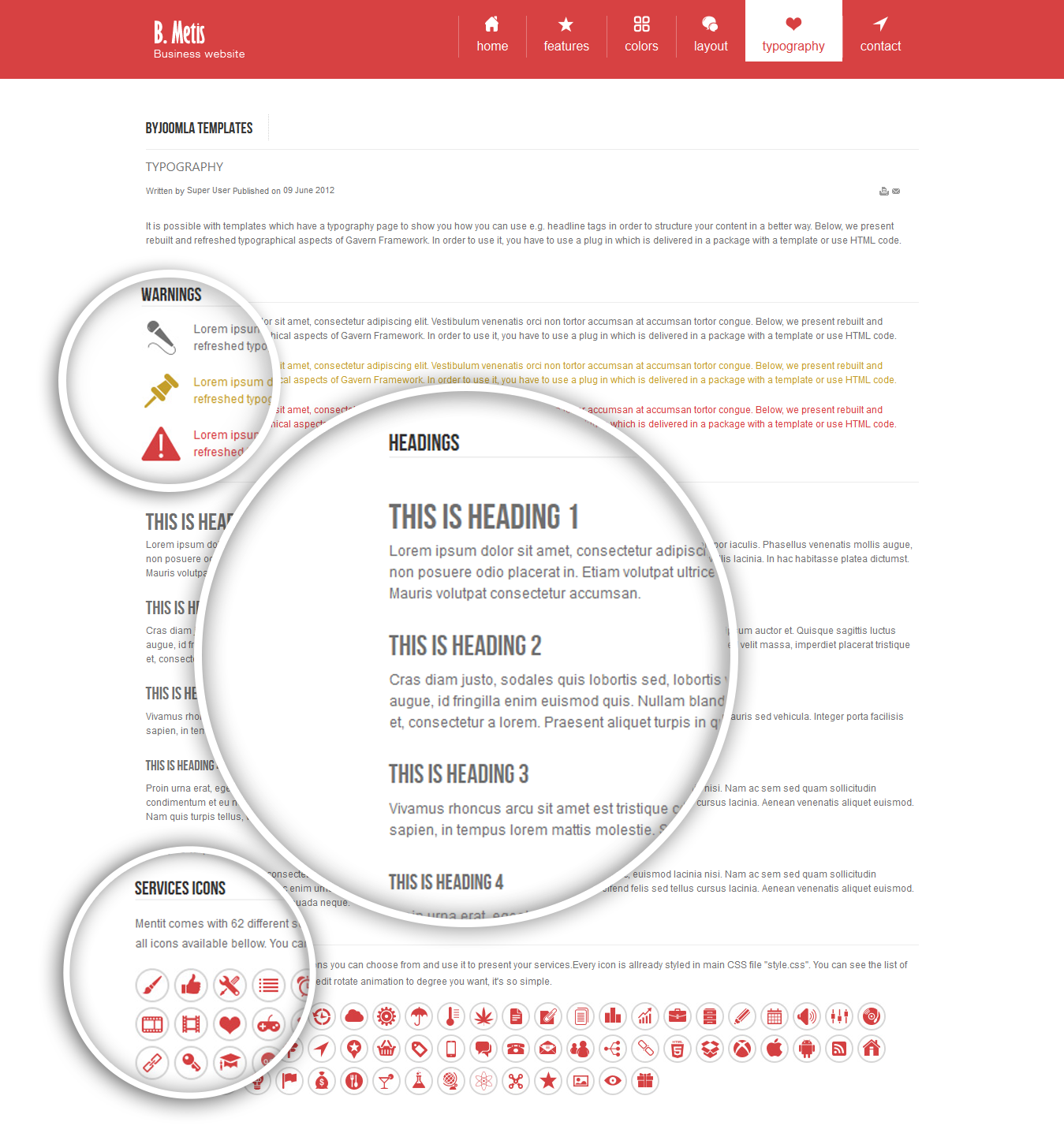 Besides, many other professional features are included in B Metis
| | | |
| --- | --- | --- |
| Table-less & CSS-based |   | Adjustable layout |
| | | |
| --- | --- | --- |
| xHTML & CSS validation |   | Support Chrome, IE 10+, Firefox 2+, Safari, Opera |
| | | |
| --- | --- | --- |
| SEO friendly with SEO parameters |   | No flash |
| | | |
| --- | --- | --- |
| Right To Left alignment |   | Fast Directly Technical Support |
How to upgrade from B Metis Joomla 2.5?
For users with existing B Metis on Joomla 2.5, please see Joomla 3x FAQs for more detailed information to update from Joomla 2.5 to 3.x
Users with existing 3.0.x, 3.1.x, 3.2.x, 3.3.x can liberally use the version 3.3 without upgrading
Instructions
Save 25% with B Metis Bundle
- B Metis Gold Bundle includes: PRO B Metis Template (original price: $4.9) - PRO B Responsive Image Slider (original price: $4.9) - Total original price: $9.8. You only pay $5.99. Click to view
B Metis Gold Bundle
.
- B Metis Platinum Bundle includes: DEV B Metis Template (original price: $14.9) - DEV B Responsive Image Slider (original price: $9.9) - Total original price: $24.8. You only pay $15.99. Click to view 
B Metis Platinum Bundle
.
Recommendation
You can contribute to our development by giving feedback about bugs on installation or upgrade to Contact form or sharing experience with new users in the Forum Solutions for issues can be easily found in our FAQs section. It's nice to share your knowledge about BJ templates and make friends all over the world.
A Thank Note!
This release is the result of ByJoomla Team efforts and our customers' contribution. Sincerely thank you for supporting us day by day. To bring you more fabulous choices, a number of templates upgraded from version 2.5 including B Venus, B Venus 2, and B Jupiter will come soon. Updates will be posted frequently on our sites and other social account. Please follow to get the latest news.
  Compare packages
 
 
 

Only $0.99
for
a single domain support
Bug-fix support

Joomla 2.5, Joomla 3 (3.2, 3.3)

Only $4.9
for
a single domain support
Suitable for website owner/administrator

Joomla 2.5, Joomla 3 (3.2, 3.3)

Only $14.9
for
Unlimited domain support
Suitable for Web development agencies

Joomla 2.5, Joomla 3 (3.2, 3.3)

Quickstart 5 steps to Live Demo

Quickstart 5 steps to Live Demo

Quickstart 5 steps to Live Demo

Blue Color

8 Colors

8 Colors

B Dropdown Menu
B Headline Roller
B Social Plugin
B Facebook modules
B Image Slider (Free version)

B Dropdown Menu
B Headline Roller
B Social Plugin
B Facebook modules
B Image Slider (Free version)

B Dropdown Menu
B Headline Roller
B Social Plugin
B Facebook modules
B Image Slider (Free version)

Basic typography

Advance typography

Advance typography

No PSD source file

PSD source file available

PSD source file available

Commercial license

Commercial license

Commercial license

Bug-fix support on Forum

Dedicated
technical support (3months)

Dedicated
technical support (12 months)
Email and Helpdesk
(within 24 hrs)
Forum support

Dedicated
technical support (12 months)
Email and Helpdesk
(within 24 hrs)
Forum support

12-month uprade

12-month
upgrade

Lifetime upgrade

Only $0.99

Only $4.9

Only $14.9

 
 

Only $5.99 (Save 25% - Including B Image Slider Pro)

Only $15.99 (Save 25% - Including B Image Slider Dev)