By releasing this dynamic template, ByJoomla provides a more customizable template that comes with many cool features. Have a look at our B. Jupiter 1.5 LIVE DEMO or 1.7 LIVE DEMO.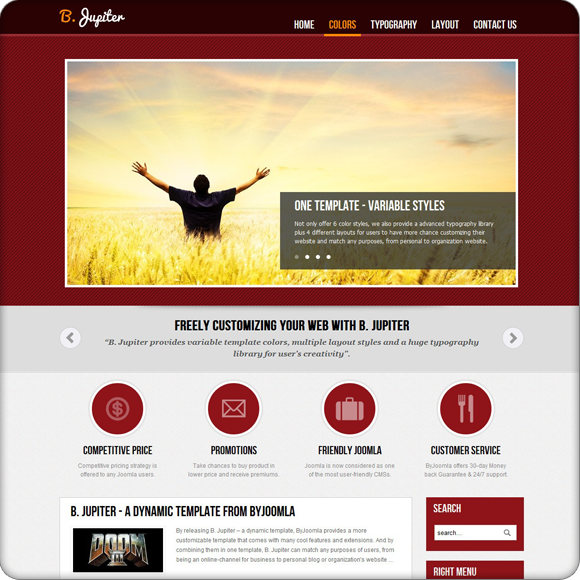 The combination of BJ Image slider 2, BJ Photo Gallery and BJ Social Plugin, which are the best extensions offered by ByJoomla, makes B. Jupiter match with multiple purposes from professional web builders or amateur web administrators.
We also included in B. Jupiter the cool features to your site user friendly make you/ your customers conveniently browsing the web.
o Table-less & CSS-based
o Adjustable layout
o xHTML & CSS validation
o Cross browser compatible – Support Chrome, IE7+, Firefox 2+, Safari, Opera
o SEO friendly with SEO parameters.
o Flash-Free (easily browsered on mobile devices)
o Compatible with Joomla 1.5, 1.6, 1.7 and 2.5
o Simple CSS-based customization.
…. and much more!
Let's check out BJ Jupiter in details through our 1.5 live demo / 1.7 live demo, download FREE version or purchase the PRO package in only $24.9 to get a fully-experience of this ByJoomla dynamic template.