Get more social with Joomla Social Plugin for articles!
So you have great content! Why don't you let people share it on their  Twitter and Facebook account? Now it is easy with ByJoomla Venus templates (Including Venus and Venus 2.)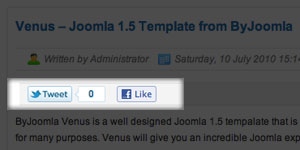 See Social Plugin for Joomla in live Demo
If you have any ideas to our products, please kindly leave your comment bellow.