BJ Newstabber is an useful module that helps to show news in a tabber-style.
BJ Newstabber is a free module, however, it comes with
BJ Synegy Pro Package
only. Please
purchase here
to have the latest version of BJ Synegy template including this interesting module
Below is a figure of BJ Newstabber, as can be seen on our demo site :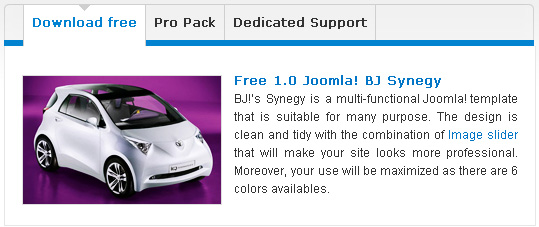 Built with 'Bounce-Out' transition effect, moving between tabs in BJ NewsTabber is interesting and attractive. Your site would looks lively with this tiny module. You can also save more space on page, it means more content can be displayed at the same time than before.
Check out this helpful module right here, with other style available: